Reliable Plumbers since 1978
J & C Plumbing Company has been offering plumbing services including gas service, electric sewer service and pipe inspection since 1978. Our family owned and operated business has been passed down from generations. Over the years, we have become one of the most trusted residential and commercial plumbers in West Columbia, TX based on our meticulous attention to detail. Being a
BBB
-accredited company makes us all the more credible to better serve our customers. But don't just take our word for it. Read what some of our happy customers have said about us.
Meet our Staff
From the left is Ryan Gobert "Journeyman" License# 45228,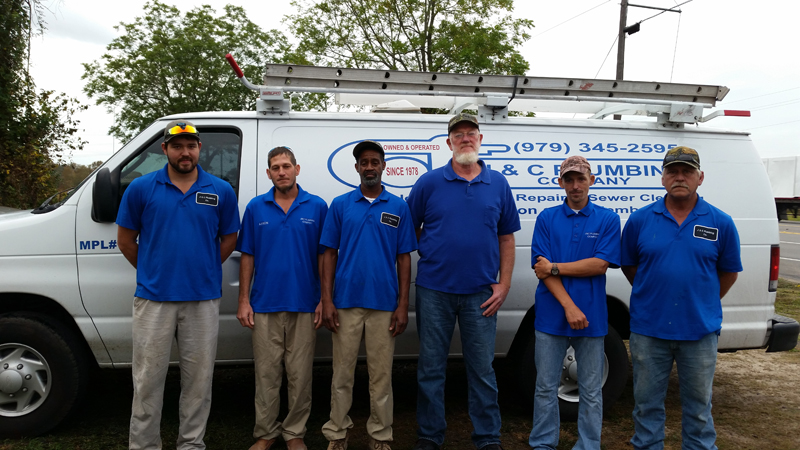 Aaron Peace "Journeyman" License # 39707,
Leandrew Hewitt Jr. "Apprentice" License#83620,
Robert Davis "Master Plumber" MPL#17812
Donald Reichart "Apprentice" License #67366,
Larry Jobes "Journeyman" License #25764.
Plumbers not in the photo are:
Mario Dominguez "Journeyman" License# 45888,
Dustin Jones Apprentice License# 94223.
Customer Reviews
"Flooded Basement: I had a large flooding problem in my basement and J & C Plumbing Company came out promptly and took care of the problem. They were reasonably priced for the work they did. The plumber was very professional and informative. I will definitely recommend J & C Plumbing Company to anyone in need of a plumber. Pleasant experience from start to finish."
By Office on 06/05/2013

"I called J & C Plumbing Company and they scheduled me at a time that was convenient for me. They showed up early and fixed what I needed done quickly and professionally. I would highly recommend this company and plan to use them in the future if I have any other plumbing problems!"
By Dalemossta on 06/05/2013
Get in Touch
Don't hesitate to
call us
for more information on our services.